1) Faithful Adaptation
Like with all book adaptations they had to cut some of the book's story out. With this, I feel it stuck to the book really well but cut out the unnecessary and boring parts – which made it more enjoyable for me, personally. There were many parts of the book I found myself getting fed up with reading, I ended up liking the adaptation much more!
2) Visually Pleasing
Aka aesthetic. I'm not a historian, I don't know exactly what things would've looked like in this time period. The thing I struggle with, with classics (and historical fiction) is visualising how it's supposed to look. Which brings me onto the next point…
3) It's Historically Accurate

Again, I'm no historian but I did watch the 2005 Pride and Prejudice adaptation after this and couldn't help noticing how different the costumes were. I did a bit of research and found the costumes in the mini-series were inspired by actual fashion from the time the book was written. I found on Frock Flicks they showed the inspiration behind the costuming, it's a really interesting read if you're like me and love the costumes in period dramas.
4) It was actually gripping
I ended up binge-watching the first 4 episodes, I would've watched them all if it hadn't have been late! I really wanted to keep watching, I struggled to focus whilst reading the book and it was easy to put down for long periods of time.
5) AMAZING Casting
I think every character was perfectly cast and did a great job of bringing the characters to life. Everyone just fitted their part so well, it was really well done and I wouldn't change any of them.
Obviously, Colin Firth steals the show, I mean look at him!?
*swoons*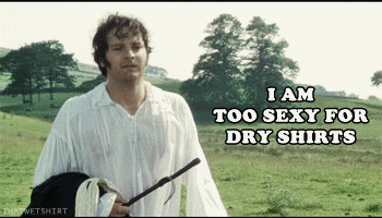 ---