Hey guys!
Today I'm talking about the books I read in the month of May.
I read a total of 6 books (3 audio, 3 physical) and a short story. I'm really happy with this amount considering in the first half of May I had finals for uni, including 3 essays, a creative writing portfolio and an exam. As you can tell I procrastinated doing these things by reading/listening to books. Oops.

The first book I finished in May was Shadow and Bone by Leigh Bardugo
I actually started and finished this on May 1st! Great start to the month and I haven't read a book in a day in a long time. Super happy!
Rating: 4 Stars
---

Secondly, I continued on and read Siege and Storm by Leigh Bardugo. Didn't enjoy this as much as the first, it was pretty bland.
Rating: 3 Stars
---

Thirdly, I listening to the Stars Above audiobook by Marissa Meyer. This was okay, as far as short story collections go. I'm generally not a fan of short stories but these were okay, some I enjoyed more than others, naturally. More thoughts in my review!
Rating: 3 Stars
Review here!
---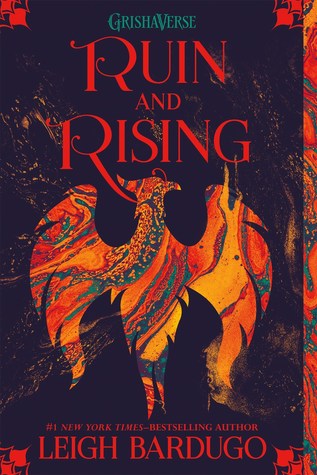 Fourth I read Ruin and Rising by Leigh Bardugo and WHAT A DISAPPOINTMENT. I thought this would be so much better but it was so boring. It took me 11 days to read 350 pages. 11 days?! I read Shadow and Bone in a single day.
Rating: 2 Stars
---

Next, I finished another audiobook, Queenslayer by Sebastien De Castell.
Rating 3.5 Stars
Review coming soon!
---
Next, literally right after finishing Queenslayer, I read the short story The Red Lily by Sebastien De Castell – which is about Ferius Parfax from the Spellslinger series. This story takes place between book 3 and 4.
---

Finally, I finished another audiobook: Fairest by Marissa Meyer.
I didn't think it was possible to hate Levana more than I did in The Lunar Chronicles main series but this backstory for Levana topped it. She's also been the worst, I can see why now, but I have no sympathy for her. She's vile.
Rating: 3.5 Stars
---
How many books did you read in May? Which was your favourite?
---