Top 5 Wednesday is a weekly meme, GoodReads group here with all the topics + discussion!
This week's topic is: Spring Reads
Spring/Summer is when a lot of people read contemporary books but I'm not the biggest contemporary fan, so my list is going to be *mostly* fantasy… sorry not sorry.
1) The Raven Cycle by Maggie Stiefvater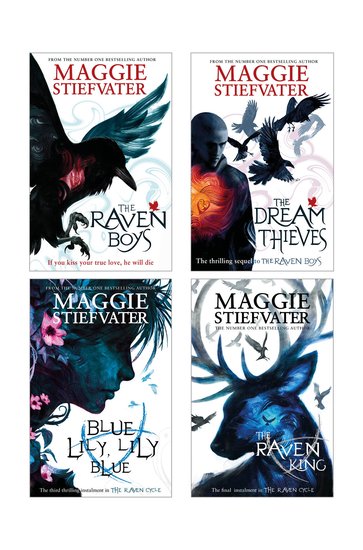 I feel like these books just scream spring, the first book in set in April so perfect timing! The first books that came to mind when I was thinking about what to include in this list were these. I think these books are perfect to binge in spring!
---
2) Simon Vs the Homosapien Agenda

The only contemporary on this list. Mainly because this book has actually stuck with me, most contemporaries are cute at the time for me but I find them unmemorable. I find myself still thinking about this book for ages after I read it,  it's almost been 2 years now. I'd love to reread it – I might do this spring!
---
3) Warbreaker by Brandon Sanderson
Am I forever recommending Brandon Sanderson? Yes. Will I ever stop? No.
I consider Warbreaker to be my favourite book. It brings me so much joy, the story has stuck with me and I loved it even rereading it. It's just a great book. It's fantasy with romance, friendships, loads of plot twists (of course) & a talking sword. It's also a standalone, so no commitment to a series!
---

4) Spellslinger by Sebastien De Castell
This is such a fun series, I think it's perfect for any time of year but I think it would be a great spring read. It's funny and lighthearted, it's such a fun fantasy – not dark or stressful to read like some are.
---
5) Jane Eyre by Charlotte Bronte

Thought I would include a classic. The only classic I can honestly say I love! Jane Eyre is one of my favourite books of all time, I just love Jane as a character and her story.
I think this would be a lovely spring read. I always imagine her time at Thornfield and with Rochester in the spring/summer for some reason…
---
What book would you recommend this spring?
Let me know in the comments!
---