Top 5 Wednesday is a weekly meme, GoodReads group here with all the topics + discussion!
This week's topic is: Books to Give _____ as Gifts
(Create a recommendations guide for a person)
I chose to do a list for YA Fantasy Lovers!
1) Throne of Glass by Sarah J Maas – Collectors Edition
Both the UK and the US editions are gorgeous, however,  I got the US edition with the slipcase because I wanted a slipcase, it feels more special to me. Maybe I'm weird. (lol)
Throne of Glass is a great fantasy series, what better gift to give a YA Fantasy lover than this stunning collector's edition!
---
2) Six of Crows by Leigh Bardugo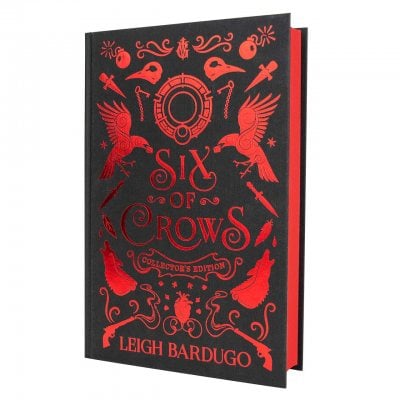 Another gorgeous collector's edition. But honestly, who wouldn't want this? It's freaking beautiful. The cover. The red sprayed pages. Ugh. 
This would make a great gift for someone who loves YA Fantasy with morally grey/misfits as characters. It such a cool duology, the characters are just everything, definitely worth a read!
---
3) Mistborn by Brandon Sanderson
This would be a great present for a YA fantasy lover who wants to get into more adult fantasy books. The Mistborn Trilogy would be a great transition series as it is adult but feels a bit YA too. It's a really good starting place for adult fantasy!
(Plus, the covers are beautiful!)
---

4) Daughter of Smoke and Bone by Laini Taylor
For the Urban Fantasy lover, this trilogy would be perfect! It's such a cute story with cool creatures and worlds but set in the familiar place of our own world.
I never thought I'd like the whole angel/demon thing, but this unique take + Laini Taylor's beautiful writing was just amazing.
---
5) Spellslinger by Sebastien De Castell
This unique western-style fantasy is just an abundance of fun! The humour is amazing, the characters are so likeable; everything is just great.
This series is such a joy to read, the books actually made me laugh out loud.
The covers are gorgeous too! (If you buy the paperbacks they have sprayed edges)
---