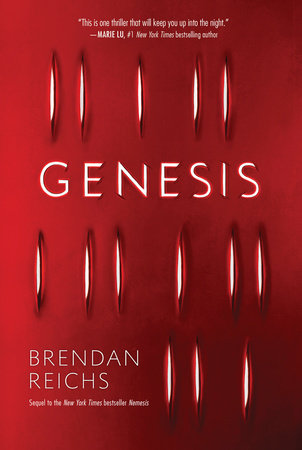 Synopsis: Noah Livingston knows he is destined to survive.
The 64 members of Fire Lake's sophomore class are trapped in a place where morals have no meaning, and zero rules apply. But Noah's deaths have trained him–hardened him–to lead the strongest into the future . . . whatever that may be. And at any cost.
Min Wilder knows that survival alone isn't enough.
Trapped in a violent world where brute force passes for leadership, it's tempting to lay back and let everyone else fight it out. But Min's instincts rebel against allowing others to decide who lives and who dies. She's ready to fight for what she believes in. And against whoever might stand in her way.
---
This review is going to be pretty short because there isn't much to say without spoiling…
I can say: definitely pick these books up, they're really interesting and unique. If you haven't picked up Nemesis (the first book) definitely do, the first half of it drags a little but it's worth it in the end.
Plot:
The plot picks up pretty much where the first book ends, everyone has divided into groups, with the awful Ethan running the majority and Noah leading another group as well as a few other smaller groups.
Everything has gone into complete chaos, teenagers running the world would never be a great idea. The twists and turns in this book are even more unreal than the first, damn, I was shocked this book definitely keeps you on edge.
It's a really strong sequel, it's even better than the first book and I would definitely read more from this author.
Surprisingly, this book felt so short, it's over 500 pages and it didn't drag at all. I am really impressed there aren't any boring parts it's really fast pace and gripping.
That ending though?? It's kinda a resolution but could be the very end… will there be another book? I'll have to have a google to find out.
Characters:
Min: One of the only decent teens left in this 'game', she's actually acting like a human, refusing to kill everyone. I like Min, especially her friendship with Tack, they're such a great duo! I don't like the relationship matching in this book. Like why can't Mim be with Tack!? As much as I like Mim, her taste in men is crap.
Noah: I started off liking Noah in the first book by the end I didn't care for him. Now I bloody can't stand him! His character development is very well done, he went from being so nice to psycho! I really don't like him. Despite what happens in this book.
Tack: I freaking adore Tack, he is possibly my favourite character even though he is only a side character. I laughed out loud during a lot of his parts, he is absolutely hilarious! I love that he's so caring and protective of Min. Adorable!! Best friend goals. He also made a Star Wars reference, what's there not to love!?
Rating: 4 Stars

Genesis by Brendan Reichs is out April 19th

*I received this book from NetGalley for free in exchange for an honest review
---