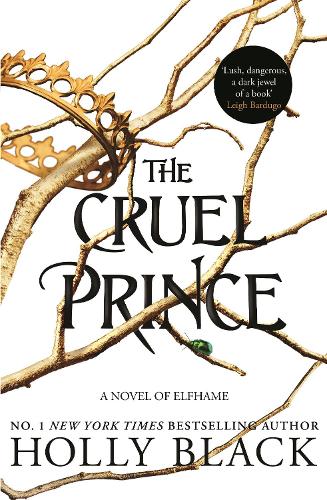 This story has magic, darkness, bad-ass characters and faeries.
Synopsis (from GoodReads):
Jude was seven years old when her parents were murdered and she and her two sisters were stolen away to live in the treacherous High Court of Faerie. Ten years later, Jude wants nothing more than to belong there, despite her mortality. But many of the fey despise humans. Especially Prince Cardan, the youngest and wickedest son of the High King.
To win a place at the Court, she must defy him–and face the consequences.
In doing so, she becomes embroiled in palace intrigues and deceptions, discovering her own capacity for bloodshed. But as civil war threatens to drown the Courts of Faerie in violence, Jude will need to risk her life in a dangerous alliance to save her sisters, and Faerie itself.
My thoughts:
This is my first Holly Black book and I can totally see the hyped surrounding her. I very much loved her writing style and her world building. This book was a fun quick read and I will definitely be picking up more of Holly Black's books in the future.
I really enjoyed Jude as the main character, she was very likeable and relatable, I really liked reading from her perspective. Jude is a bad-ass, cunning character with strong determination and is a refreshing perspective to read from. 
 The story itself was very intriguing and gripping from start to finish, I read this book in just over a day.  
I was hooked from page one!
The world building was good, I was very intrigued by the Faerie world and how their world is alongside our own. I particularly enjoyed the creatures/ different species that were within the Faerie world. 
Parts of the storyline, I did find quite predictable, the parts that I guess were supposed to be plot twists, I guessed way before the reveal. I can't go into detail as I would like this to be spoiler free! Despite being quite predictable in some parts, it did take some unexpected turns and was overall very enjoyable.
I cannot wait to see where the story will go in book two!
Definitely, give this a read if you enjoy: female leads, YA fantasy and Faeries!
Overall rating: 4/5 Stars
This book is out January 2nd 2018 
* This book was an ARC from NetGalley and was sent to me for free in exchange for an honest review. All opinions are my own.